Solihull Metropolitan Borough Council
The borough of Solihull is located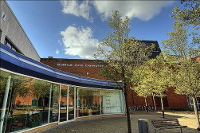 in the heart of England, between Birmingham to the west and Coventry and Warwickshire to the east. Around 70% of the borough's 44,000 acres (69 square miles) is Green Belt land, while there are 1,300 acres of parks and open spaces; it's little wonder Solihull's motto is urbs in rure ­– 'town in the country'.
Being bordered by the M6 and the M40 and split by the M42, as well as being connected to some major rail networks, ensures the borough has excellent transport links both regionally and nationally. On top of this Birmingham Airport – the fifth largest airport in the UK – lies in the borough along with Birmingham International railway station, offering transport links to places even further afield.
Solihull Council serves a population of just under 200,000 people, residing in 84,000 households. The Council itself has approximately 8,000 employees of which 4,700 are teaching staff.
In terms of schools, there are 59 primary schools, three primary academies, five special schools, three secondary schools and 11 secondary academies.
Across Solihull, there are more than 4,000 businesses registered for Value Added Tax (VAT), 27% of which operate within the administration and service sectors. Around 15% of businesses are in construction, 13% in finance and related work and 12% in retail.
More than 60 businesses employ at least 200 people, while more than half of the borough businesses employ four or fewer. About 11,000 people in Solihull are self-employed.
Solihull Council has a number of ambitious goals. It is working with a number of partners, including those in the private sector, and making real progress on regenerating the borough, particularly north Solihull. It is also committed to transforming secondary education and operating modern, customer-focused contact services.
For further information on Solihull Council, please visit the website www.solihull.gov.uk
The CSW-JETS portal will simplify and streamline the quotations and tendering process, providing a more efficient service to suppliers by making it easier to find, respond to and be alerted to business opportunities.
Electronic procurement also promotes transparency and openness, enabling more opportunities to be advertised to a greater number of suppliers and encouraging participation from local businesses, SMEs and Voluntary and Community Sector organisations.
For further information relating to procurement at Solihull Council, please visit the website: www.solihull.gov.uk/tenders
For queries relating to specific contracts or tenders, please log on to In-tend and submit your query via the 'Correspondence' tab. For general enquires, use the 'Contact' tab above.
Solihull is a great place to do business – why not come and see how it can also be right for you?